[ad_1]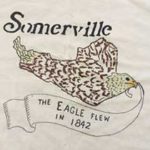 Eagle Feathers #233 – Four of a Kind

By Bob (Monty) Doherty
Gothic architecture has been popular since the early European twelfth century. In Europe, this design took root with fortresses, strong holds and castles. Centuries later with the early development of America, the historic trend swept here. As time passed, Gothic-style armories, churches and municipal buildings sprouted across the country. Gothic-designed fire houses gained popularity in the late 1800's.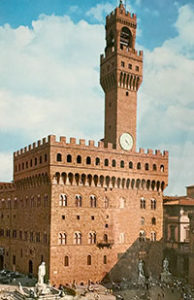 In 1872, the same year that Somerville became a city, Boston experienced its worst conflagration. It destroyed 776 buildings across 65 acres.  Thirty lives were lost including twelve firefighters, and the financial loss in those days was nearly one billion dollars in today's terms. Twenty years later in 1892, the city opened its first fire-training tower and fire headquarters on the ashes of that fire. This 156-foot yellow fire-brick Gothic Tower and building can still be seen just off the Southeast Expressway. It is the Pine Street Inn, Boston's largest homeless shelter, which is still doing its job saving lives.
For over a half century, it reared its ancient and honorable head far above the Broadway and Cross Street Fire House and its East Somerville community.  It was this old Gothic Tower where fire hose was hung and dried, fire watch was provided, and citizens were alerted by its 2,000-pound bell hanging aloft. Built in 1895, the building still stands as a community center, but the venerated Gothic Tower and its battlements were dismantled long ago.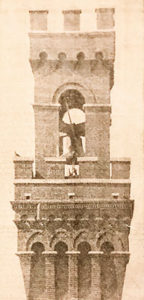 In 1907, President Theodore Roosevelt laid the cornerstone of the Provincetown Monument. It commemorated the landing of the Pilgrims at that site on November 11, 1620, five weeks before the Plymouth landing. Three years later in 1910, President William H. Taft dedicated the 252' Gothic Tower. It is the tallest all-granite tower in America.  Many of its stones were donated by Massachusetts cities and towns. Somerville was one of them.
These Gothic-topped towers were believed to be the only three in the country.  They were all designed and built in Massachusetts by different architects. It appears that all three had an influence from a fourth creator.  It is said that imitation is one of the best forms of flattery. The former red-brick tower of Somerville's Engine 2, the yellow fire brick training tower of Boston, and the granite stone monument to the Pilgrims at Provincetown prove it. These three American towers were inspired by the 13th century Gothic towers of Siena and Florence. It appears that they came to Massachusetts from Italy with love.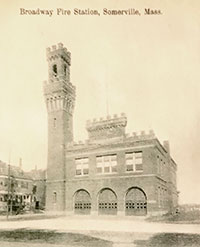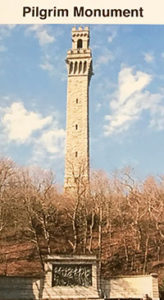 [ad_2]

Source link